Track Days
02382511115
Join Brookspeed for a full track day at some of the worlds most famous race circuits, including Silverstone Grand Prix circuit.
You and your guests will have the opportunity to take part in a truly memorable experience as you develop your driving skills and feel what it's like to handle a race car.
Brookspeed Racecar Experience:
We offer a Porsche fleet to give you the full race experience. An "all-inclusive" price with no hidden additional costs!
The following applies to all vehicle rentals:
All-inclusive rental price: provision of vehicle including track rental fee, tyres (slicks / rain), fuel, track-day collision insurance and on-site vehicle attendance.
Recommended, a maximum of 2 drivers per car for your best experience.
Professional instruction included.
V-Box video and data available.
All prices are subject to VAT.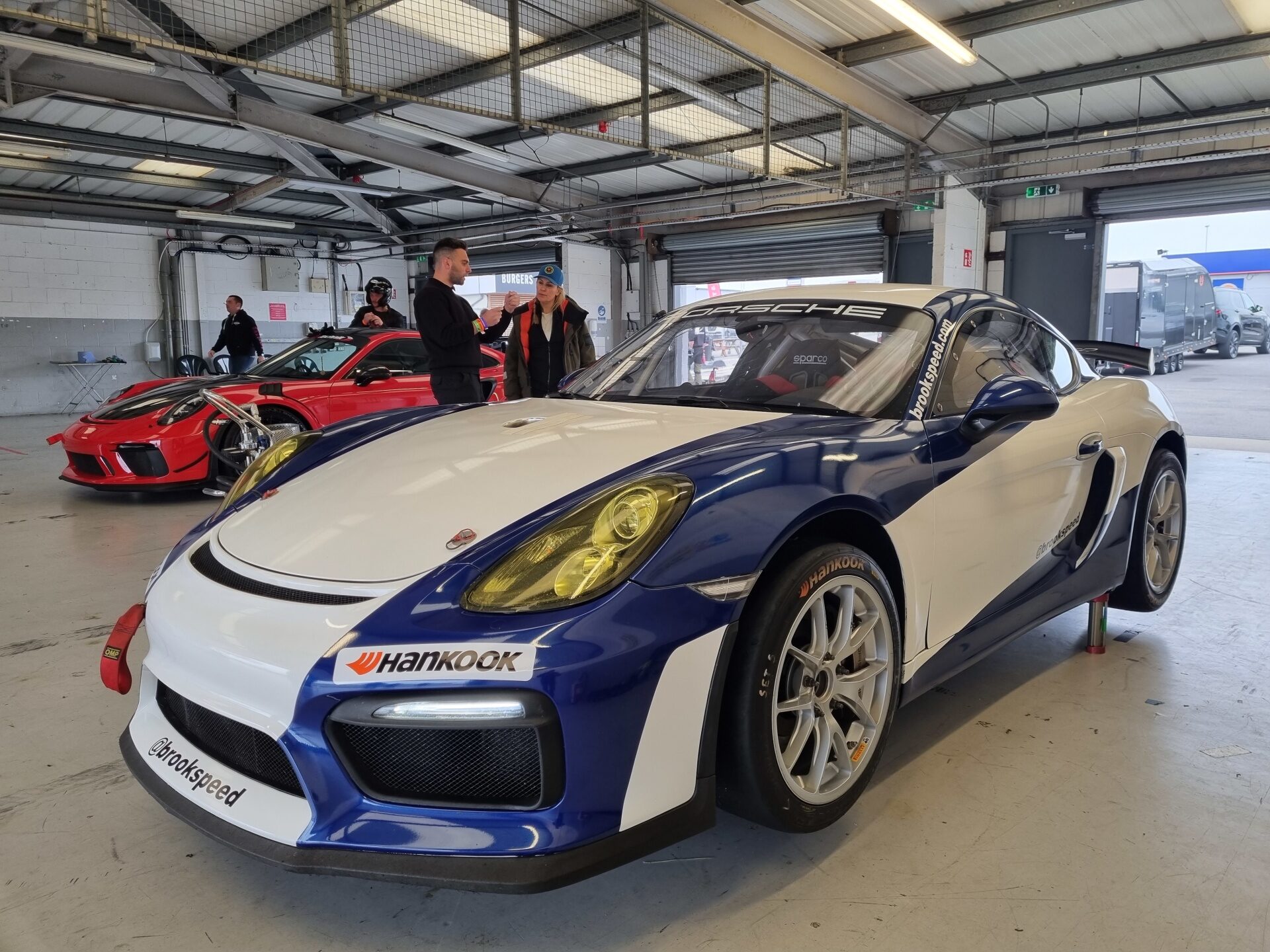 Corporate Package:
Have your own liveried cars for a full marketing/hospitality package. The cars will be your assets in your branding. Our part is to organise a full package of dates at circuits in your business geographical areas over a 6/7 month period. Please call for additional details: 07776 085557.
Cars in your corporate livery.
Team clothing in your branding.
Guests to be given branded teamwear.
Photographer/videographer on hand for Social and print media.
Branded hospitality.
Testimonials
"An experience worth experiencing again. A great day full of learning new skills. Race instructor Bill was excellent with real guidance and knowledge of the circuit. The opportunity of being driven by Formula 3 driver, Chase Owen in the GT4 race car (thanks for installing the passenger seat) was such a wow factor, if only we could do it again, soon, and we all felt it is worth doing again. To be in the pit lanes where the likes of Lewis Hamilton operate is something unique and to stand on the pit wall and watch the variety of cars being driven down the start-finish straight was something we didn't expect. The drive home was very tame! Thank you to you Martin and the team of Luke and Tim as well as Bill for one of the greatest experiences we have had."
— Andy Skelton and family. Silverstone Grand Prix Circuit.
"To turn up at Silverstone race track was an experience itself. I and my wife love the fact that we got taught by an experienced driver called Bill who showed us the true meaning on how to drive around Silverstone. To be also driven around by a formula three-driver (Chase Owen) in a GT4 really shows you what it would be like to drive around Silverstone at top speed. Being a Lewis Hamilton fan and to dive around the Silverstone track with the variety of cars was a phenomenon. Thank you, Martin and the team (Luke, Tim, Bill) for an experience I will never forget and will enjoy doing again in the future.
"
— Jamie Downer
"Brookspeed provided us with a professional and informative track day experience, where we had the chance to learn from a very experienced race driver and a team of mechanics. It was ideal from a first timer's perspective - we got the chance to put the nerves behind us, see how track days and track etiquette works and most importantly have a lot of fun. I would highly recommend this to anyone looking to get into the hobby."
— Mark Skelton