Pre/Post Purchase Inspection
PRE AND POST PURCHASE INSPECTIONS £ 195.00 + VAT
Before you buy a Porsche it makes good sense to have it inspected by someone familiar with the cars. It can save you buying an expensive problem. Brookspeed will undertake a pre-purchase inspection on your behalf for a sensible fee at our garage. We will be able to get a 'feel' for a car; not only how well it looks and drives, but how it's been looked after. A cherished Porsche is always a better buy than a neglected one.
On the ground. We start by checking that all the lights are working correctly and inspecting all lenses for chips or cracks. Inside the car checking all the cockpit instrumentation and switches and complete a general inspection of the interior including seats, seat belts and trim.
On a workshop ramp at eye height. We check all ball-joints, suspension, steering, remove the road wheels and inspect your tyres for wear, tear and irregularities. At this point we check and measure the brake discs and pads, the calipers, brake hoses, drive shafts and anything that may be housed in the wheel arch such as air conditioning condensers, oil coolers and oil lines.
On a workshop ramp at full height. We carefully inspect the under-body, chassis, fuel lines, gearbox and examine the engine for leaks. Next we check the exhaust system, all mountings, roll bars and have a good general look around for anything that will need to be reported.
Following the ramp inspection your car is then taken on a test drive. It is driven with care on mixed type roads to ensure your car is performing as it should.
INTERNAL ENGINE BORE INSPECTION £ 195.00 + VAT (£100.00 + VAT IF DONE IN CONJUNCTION WITH PRE OR POST PURCHASE INSPECTION)
On the workshop ramp. We remove the spark plugs and inspect the internals of the bores to establish if there is any sign of bore scoring or any other damage. We can email you the photos of the bores for your use.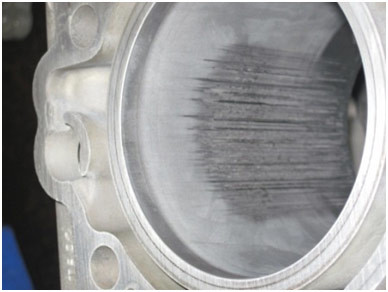 A scored bore.
Pre/Post Purchase Inspection